"Scientific and Technical Data Handling and Exchange for Development"

First International CODATA Africa Workshop
PROCEEDINGS
and related materials


The 1st International CODATA Africa Workshop was supported by CODATA, UNESCO, The Senegalese Committee for CODATA in cooperation with The Senegalese Ministry for Foreign Affairs and Senegalese Abroad, The Senegalese Ministry of Higher Education and Scientific Research and COSTED.
The Workshop was devoted to the study of issues related to the collection, mining, handling and use of scientific and technical data in the light of recent advances in networking. The main focus has been the impact of data exchange on sustainable national and regional development in the specific conditions in Africa. The Workshop, sponsored by CODATA, UNESCO, COSTED, and the Senegalese Ministry for Higher Education and Scientific Research, was a meeting point of 34 scientists and engineers from 11 countries of different regions of the world, having multidisciplinary backgrounds, but with a common binding thread of data generation and their evaluation, dissemination and use.
The workshop results should help each region to address its own specific problems while sharing its research findings and data that are useful to all. It is a challenge for African scientists and end-users to overcome barriers to data access that is so essential in all fields by amplification of efficiency coefficients in data users-producers interactions.

Programme
Wednesday, 19 July 2000
Welcoming Address, Dr. Abdoulaye GAYE, Chairman CODATA Sénégal
Keynote Address: CODATA: Shaping the Information Revolution for 21st Science and Technology, Dr. John RUMBLE, President CODATA (USA)
Official Opening, Dr. Dialo DIOP, Cabinet Director for Higher Education and Scientific Research (Sénégal)
S&T Data in Southern Africa: the situation in the SADC countries, Prof. Stephen ROSSOUW (Republic of South Africa)
Networking in Africa, Dr. Kingsley Oise MOMODU, M.D. (Nigeria)
Pretherapeutic stage in laryngeal cancer: a senegalese case, Prof. El Hadj Malick DIOP, M.D. (Sénégal)
Is the CODATA Task Group Survey of Data Sources in Asian-Oceanic Countries (DSAO) a Good Model for African Exploitation? Prof. Edgar WESTRUM, Jr. (USA)
Thematic Sessions:
(I) Data Mining and Validation, Introduction by Dr. Enrique CANESSA (Italy)
From Data Warehousing to Data Mining, Abdourahmane FAYE (France)
(II) Coordination of Regional CODATA Activities, Introduction by Clement ENTSUA-MENSAH (Ghana)

Results of CODATA Chairs' Meeting

Thursday, 20 July 2000
CHAIR: Prof. Edgar Westrum, Jr.
Keynote Address: Information Technology for the Developing World, Prof. M.G.K. MENON (India)
Abstract: The Role of Scientific and Technical Information in Moving Toward a Knowledge-Based Economy in the Developing World: A Discussion of Select Issues, Dr. Paul UHLIR (USA)
The senegalese experience on new and renewable energy sources, Mr. Mamadou KANOUTE, Senegalese Ministry for Energy (Sénégal)
Research Networking in South Africa, Henda VAN DER BERG (Republic of South Africa) (Abstract)
Ways of cooperation in Africa (Integration of Databases), Introduction by Henda VAN DER BERG (Republic of South Africa)

Special UNESCO-sponsored Session on Virtual Laboratories and Virtual Libraries:
UNESCO Report on the Session on Virtual Laboratories and Virtual Libraries, Prof. G. Olalere AJAYI (Nigeria)
Data Networking and Distance Cooperation: Steps Towards Virtual Laboratories and Libraries, Dr. Enrique CANESSA (Italy)
Virtual Laboratory Approach, Dr. Günther CYRANEK (Ethiopia)
Abstract: Use of Virtual Laboratory for Distance Scientific Research Collaboration in Africa, Prof. G. Olalere AJAYI (Nigeria)



Friday, 21 July 2000
Chair: Prof. M.G.K. Menon
Intellectual Property in Africa: the OAPI Case, Mr Thierno GUEYE (Sénégal)
Keynote Address: Intellectual Property Rights in Digital Information in the Developing World Context: A Science Policy Perspective, Dr. Paul UHLIR (USA)

Conclusions and Looking to CODATA's Future, Dr. John RUMBLE, Jr. (USA)



Additional Submissions from people who could not attend the workshop:
Abstract: African Traditions and How They Can Affect Data Collection and Data Management, Dr. Marian Ewurama ADDY (Ghana)
Management Information System for Science and Technology in Indonesia (MISSTI), Dr. Koswara NATAKUSUMAH (Indonesia)



List of CODATA Africa Participants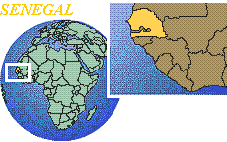 For more information, please contact:
Dr. Abdoulaye Gaye
Chairman, CODATA Senegal
P.O.Box 1857
DAKAR - Senegal
Phone: 221-633 39 27
Fax: 221- 834 78 20
E-mail: agaye@primature.sn
CODATA Senegal website: http://www.codata.sn