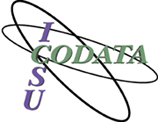 International Council for Science : Committee on Data for Science and Technology



< home > < blog > < newsletter > < discussion list > < data science journal > < contact > < members area >
C O D A T A
What Does It Mean To Be a Part of CODATA?

What is CODATA?
CODATA is an interdisciplinary Scientific Committee of the International Council for Science (ICSU), which works to improve the quality, reliability, management and accessibility of data relevant to all fields of science and technology. CODATA was established over 30 years ago by ICSU to promote and encourage, on a world wide basis, the compilation, evaluation and dissemination of reliable data of importance to science and technology. The pre-eminence of the information revolution fueled through the Internet, the World Wide Web and the explosion of personal computing today, makes CODATA's mission even more important.
Who are members of CODATA?
National Members: A scientific academy, research council, scientific institution or association of such institutions, which has activities in scientific data evaluation and compilation.
Regional Members: An international body, representing a group of nations on the basis of some regional or other relationship, which has activities in scientific data evaluation and compilation.
Union Members: Each scientific union federated in ICSU, which expresses an interest in the scientific data program of CODATA.
Co-opted Members: An international organization wholly or predominantly in work covered by the objectives of CODATA.

How is CODATA governed?
Each National, Regional, Union or Co-opted Member designates a delegate to represent it to CODATA. Every two years, a General Assembly of CODATA is held, which consists of delegates of members. Each member has one vote.
How is CODATA supported?
Each National and Regional Member pays annual dues based on the financial categories set by the General Assembly. These categories reflect the size of a member as well as the extent of the scientific activity.
Who Governs CODATA?
CODATA has elected Officers and an Executive Committee who govern its affairs between General Assembly meetings.

What are CODATA scientific objectives?
Compile and critically evaluate or encourage compilation and critical evaluation of key sets of scientific data or special importance
Study methodologies for evaluation, management, analysis and dissemination of data, including maximizing the compatibility of databases from different sources
Enhance coordination of data projects in order to provide consistent formats, maintain standards or facilitate conduct of work and encourage interchange formats for data
Establish and/or maintain directories on sources of data
Undertake pilot projects to evaluate the feasibility of building databases or data systems
Stimulate experimental determinations, theoretical calculations or correlations, and observations, which are crucial to completion of evaluations of data sets
Encourage usage of symbols, units, nomenclature, terminology, constants, etc., that are advocated by the responsible Unions
Foster exchange of relevant information and ideas by meetings, publications, training courses and other appropriate means
Consider data access and intellectual property issues, especially in this time of rapid advances in networking
Promote an increased awareness in the scientific and technical community of the importance of data and data activities
How does CODATA achieve its objectives?
Sponsorship of a biennial CODATA International Conference on data, which attracts over 350 scientists, engineers, data experts and policy makers from around the world
Specialist meetings of scientific data experts, which address issues specific to one discipline or topic
Publications on data handling, data compilations, surveys of data activities and meetings proceedings
Sponsorship of Task Groups, Working Groups, Commissions and other groups addressing specific data issues